This week, the North Carolina Coalition Against Domestic Violence (NCCADV) publicly announces the winners of its 2022 Legislative Excellence Awards as Rep. Ted Davis, Jr., and Rep. David Price. This is NCCADV's first year presenting Legislative Excellence Awards, which are intended to honor legislative allies at the state and federal level who have taken impactful action to address or prevent domestic violence in North Carolina.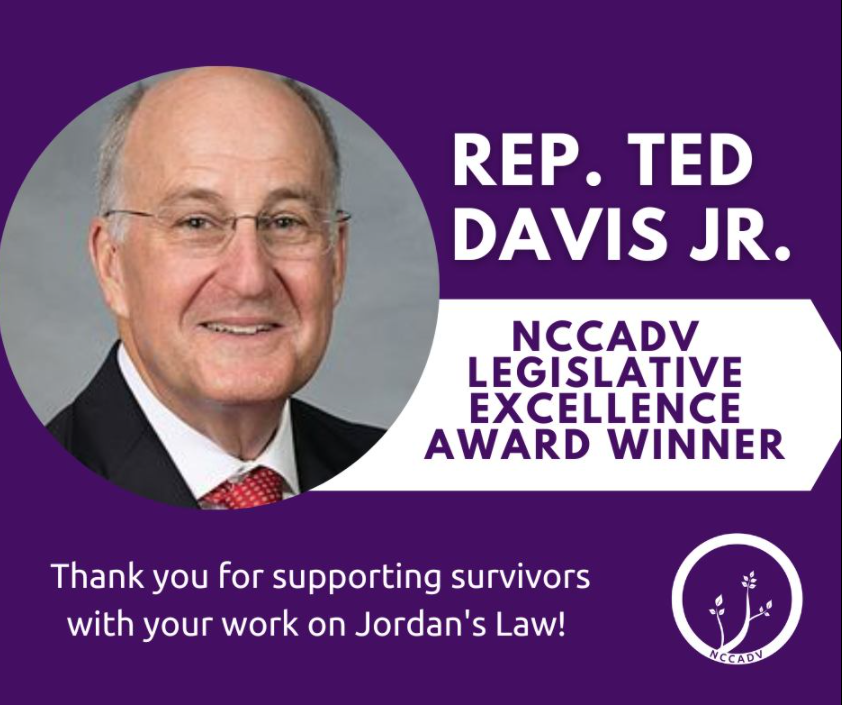 NCCADV selected Rep. Ted Davis Jr. (R-20) of the North Carolina House of Representatives to receive a Legislative Excellence Award for his work to introduce Jordan's Law to the General Assembly during the 2022 short session. Jordan's Law, which goes into effect on December 1, 2022, allows judges to extend domestic violence protective orders (DVPOs) between the time a Plaintiff files to renew an expiring order and the date the court ultimately reviews the petition for renewal. This law addresses the common scenario where a domestic violence survivor's existing DVPO is set to expire before the court can review their petition for renewal.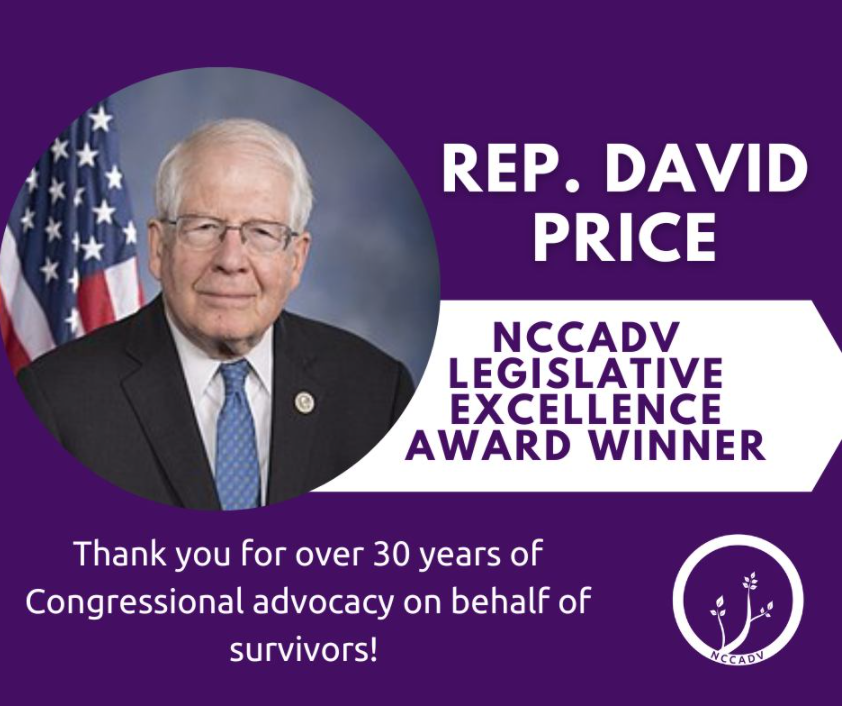 NCCADV selected Rep. David Price (D-4) of the United States House of Representatives to receive a Legislative Excellence Award for his advocacy on behalf of domestic violence survivors during his over 30 years of service in Congress. In his role as Chair for the Transportation, Housing, and Urban Development Appropriations Subcommittee, Rep. Price has championed increased appropriations to address affordable housing and specific housing relief options for survivors of domestic violence. He has also supported multiple reauthorizations and enhancements of the Violence Against Women Act and the Family Violence Prevention Services Act.
Rep. Davis and Rep. Price will be honored during NCCADV's virtual event, LUNAFEST, at 7:30 pm on Friday, September 23, 2022. Awardees will deliver brief remarks regarding their commitment to domestic violence during this event. Tickets for this event are available at tinyurl.com/NCCADV22