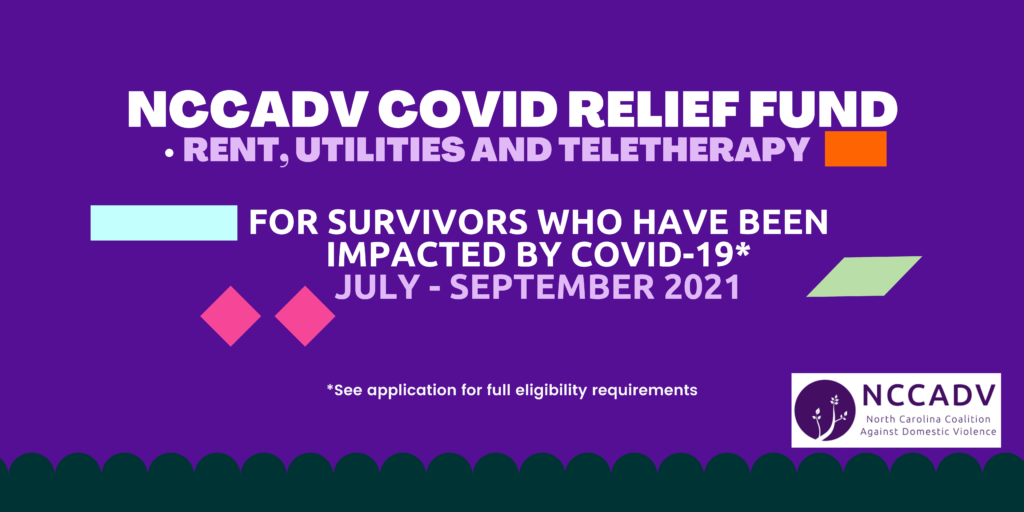 NCCADV knows that victims and survivors have been disproportionately impacted by the COVID-19 pandemic. We have funds available through September 30th, 2021 to help eligible folks pay for rent, utilities and teletherapy.
You are eligible to request COVID Relief Funds if:
You self-identify as a victim and/or survivor of intimate partner violence/domestic violence (IPV/DV)/teen dating violence OR you are applying on behalf of a child who has been exposed to DV.
You have been/continue to be adversely economically impacted by COVID-19
You currently live in North Carolina 
Community Resource Assistance Guides
FOLLOW UP SURVEY FOR RECIPIENTS OF FINANCIAL ASSISTANCE
Email or call the Covid Relief Fund team at directaid@nccadv.org or 919-956-9124 ext. 221 if you have questions.
CONTACT FOR ADDITIONAL LANGUAGES
For language assistance to complete the application, please email directaid@nccadv.org with the information below:
English
Name:
Phone Number:
Email address:
Preferred Language:  
العربية
لكي يتم الاتصالبك لاستكمال نموذج القبول في لغتك المفضلة للتواصل مع مترجم فوري، يرجى تقديم ما يلي
الاسم
رقم الهاتف
عنوان البريد الإلكتروني
اللغة المفضلة
Burmese
သင်ကြိုက်နှစ်သက်သော ဘာသာစကား ဆက်သွယ်မှုဖြင့် ဝင်ခွင့် ဖောင်ပုံစံကို စကားပြန်နှင့် ဖြည့်ရန်
ဆက်သွယ်နိုင်ရန် ကျေးဇူးပြု၍ အောက်ပါတို့ကိုပေးပါ
အမည်
ဖုန်းနံပါတ်
အီးမေးလ်လိပ်စာ
ကြိုက်နှစ်သက်သော ဘာသာစကား
Español
Debe proporcionar la siguiente información para se comuniquen con usted para completar el formulario de admisión en su idioma preferido con un intérprete:
Nombre:
Número de teléfono:
Dirección de correo electrónico:
Idioma preferido:
Français
Afin d'être contacté pour remplir le formulaire d'admission dans votre langue de communication préférée avec un interprète, veuillez fournir les éléments suivants :
Nom et prénom :
Numéro de téléphone :
Courriel :
Langue de préférence :
Hindi
दुभाषिया के साथ आपकी बोलचाल की पसंदीदा भाषा में इंटेक फॉर्म भरने हेतु संपर्क किए जाने के लिए, कृपया निम्नलिखित जानकारी प्रदान करें:
नाम:
फोन नंबर:
ई-मेल पता:
पसंदीदा भाषा:
Korean
통역사와의의사소통언어로입학양식을작성하기위해연락을받으려면다음을제공하십시오.
이름:
전화번호:
이메일주소:
선호하는언어:
Kinyarwanda
Kugira ngo bakuvugishe uzuza ifishi yo kwiyandikisha mu rurimi wifuza ko umusemuzi akuvugishamo, tanga amakuru akurikira:
Amazina:
Nomero ya telefone:
Imeyiri:
Ururimi wifuza:
Urdu
کسیمترجمکےساتھاپنیترجیحکردہرابطےکیزبانمیںانٹیکفارمکوپُرکرنےکےلئےرابطہکیاجانےکےلئے،براہ کرمدرجذیلفراہمکریں
نام
فون نمبر
ای میل ایڈریس
ترجیح کردہ زبان
Vietnamese
Để được liên lạc cho việc điền vào mẫu đơn tiếp nhận bằng ngôn ngữ giao tiếp thông thạo của quý vị với thông dịch viên, xin vui lòng cung cấp thông tin sau:
Họ tên:
Số điện thoại:
Địa chỉ email:
Ngôn ngữ thông thạo: